If you've never heard of open-ended toys before, let me explain.
Open-ended toys for babies are toys that encourage imagination and curiosity. Put simply, they let your baby do the thinking and learning.
There's no right or wrong way of playing with them. That's why they're called open ended. They are designed to inspire creativity and curiosity, and babies can play with them from they're 1-2 month old.
The opposite of open-ended toys are close-ended. They do the play for your baby.
For instance, when your baby pushes a button on a toy and it plays a certain melody, the toy is entertaining your baby. That's close-ended and it's passive play.
While close-ended toys are great in some situations (like in the car, if they're sick, etc.), I've never bought them for my kids when they were little. I prefer toys that encourage independent play for babies.
Examples of open ended play
For babies, open-ended play might be cuddling and exploring the feel of a teddy bear.
For toddlers, open-ended play is building with Lego or Play-Doh. Open-ended play is play without rules; it takes a sandbox approach to play, where anything is possible and the only limits are those of your baby's curiosity and creativity.
Why is open-ended play so important?
And what's the harm in letting your 9 month old baby listen to a song on the iPad?
None at all!
They should do that, too.
But if you want to encourage independent play which promotes creativity, learning and health (and gives you a break), you'll want open-ended play.
When your baby plays with an oBall for instance, they explore what can be done with it.
Can they put their tongue through the holes? Can they hold it with both hands? Does it make a sound when they shake it?
The wonderful thing about open-ended play is that it fosters creativity and curiosity. All you need is to give your little one an open-ended toy and watch them explore the possibilities.
Read next: Why independent play is important for cognitive skills and health
What are the best open-ended baby toys
Although your baby may not yet be crawling or talking, their mind is still a sponge that is desperate for engagement and learning.
The best open-ended toys for babies are safe and soft; they engage the senses and encourage curious play. Here are some things to consider when selecting the best open-ended toys for babies.
Plastic vs wood
Personally, I prefer wood over plastic. Wood is a more environmentally-friendly product, for one thing. It's natural. But wood is also stronger, softer, smoother, and more satisfying for your baby to touch and hold.
No batteries
Battery-powered toys are fun but they have obvious limitations. No batteries means no time limit, and also an overall lower cost for you. Balls, soft toys, and building blocks don't require batteries.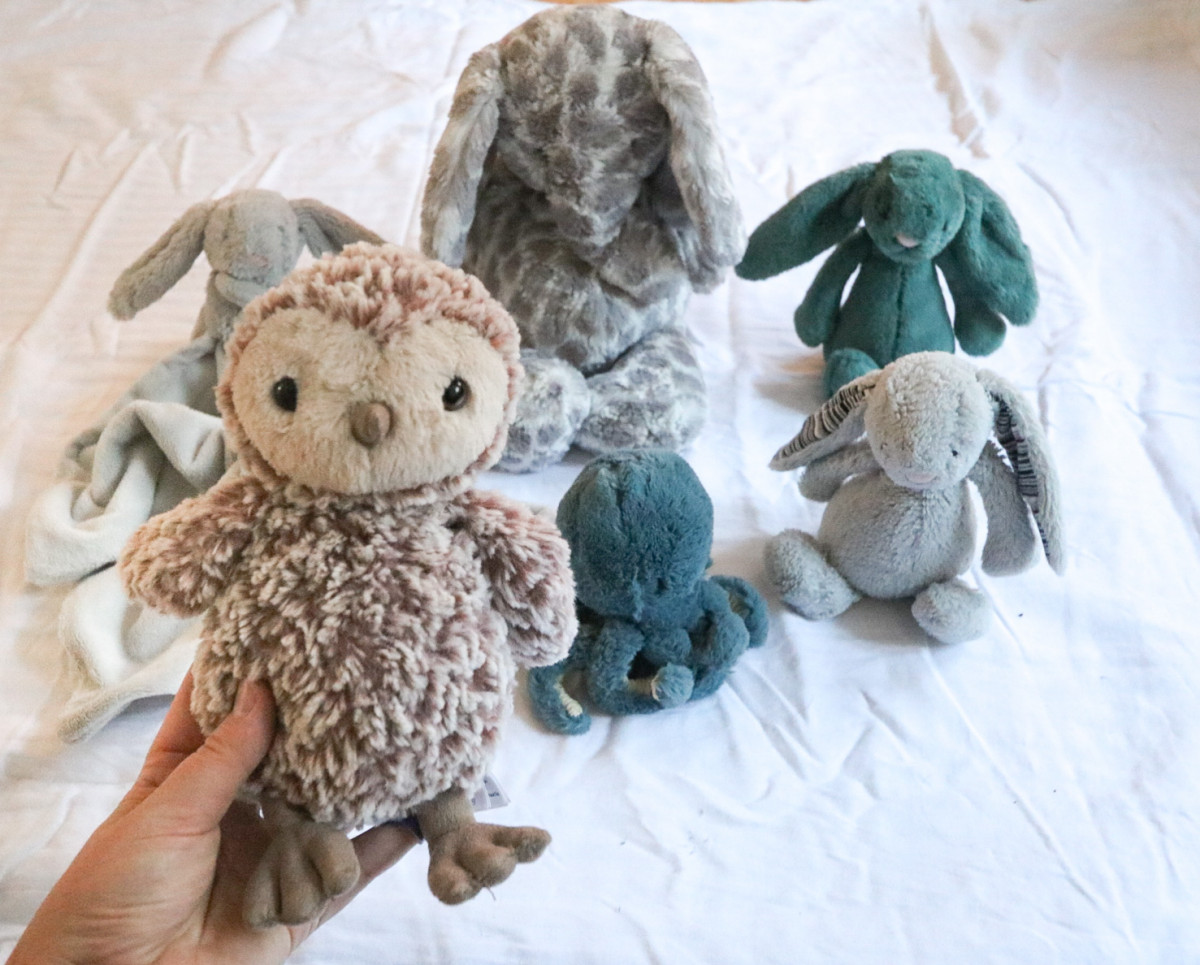 Best open-ended toys for babies
With all of these details and considerations in mind, let's look at the best open-ended toys for babies that you can buy right now. These toys are separated into age groups, right from day one to twelve months.
When your baby steps into toddler-hood, you'll need more advanced toys, which I've made a list of here: 12 open ended toys for toddlers that promote creativity
OPEN ENDED TOYS FOR BABIES
0-3 months
Wooden activity stand
The activity stand is one of the toys we've been most happy with. This one in particular is really versatile because you can move it around. When your baby is around 3 month old, they can touch, feel, bat, and swing. This open-ended toy also includes a mirror, and the toys can be easily detached and reattached.
Security blanket
This soft security blanket from Jellycat has been a must for baby naps in our house. Not only to lie against the baby's chin, but the long ears are perfect for grabbing as the baby falls asleep. Both our boys have loved to cuddle with this blanket.
OPEN ENDED TOYS FOR BABIES
3-6 months
Sensory toy
This inchworm toy is made up of eight soft segments, each one with a different colour, texture, and feel when squeezed. Each one also emits a different sound. Both our boys have loved this open-ended toys for babies.
Squeaker
Sophie the Giraffe is one of the most popular baby toys in Denmark. We've had one for each of our boys and can definitely agree that it's great!
It's perfect for teething babies. It emits a squeak when squeezed and the giraffe shape means it can easily be held in one hand and your baby can chew on the legs and its nose.
OPEN ENDED TOYS FOR BABIES
6-9 months
Hammering toy
Made of wood, multicolored, and with a removable xylophone, this is a tactile toy that also teaches your baby about music as they develop their dexterity and hand-eye-coordination skills.
Bath toy
Bath time is just much more fun with adorable, colourful cartoon barnyard animals. These soft and squishy bath toys squirt water and provide lots of play for your baby.
Soft building blocks
Building blocks are some of the most timeless open-ended toys for babies. These multicoloured blocks come in different shapes and are decorated with both numbers and images to help your baby learn.